Customized Creative Solutions
Often times our clients come to us after being frustrated with other companies who provide them the "customized promise" but deliver the same cookie-cutter approach. They are looking for a partner who can help them elevate their dining and refreshment programs by creating something unique and different. Our forward-thinking, creative solutions customized to each client's needs are our winning approach.
Contact Us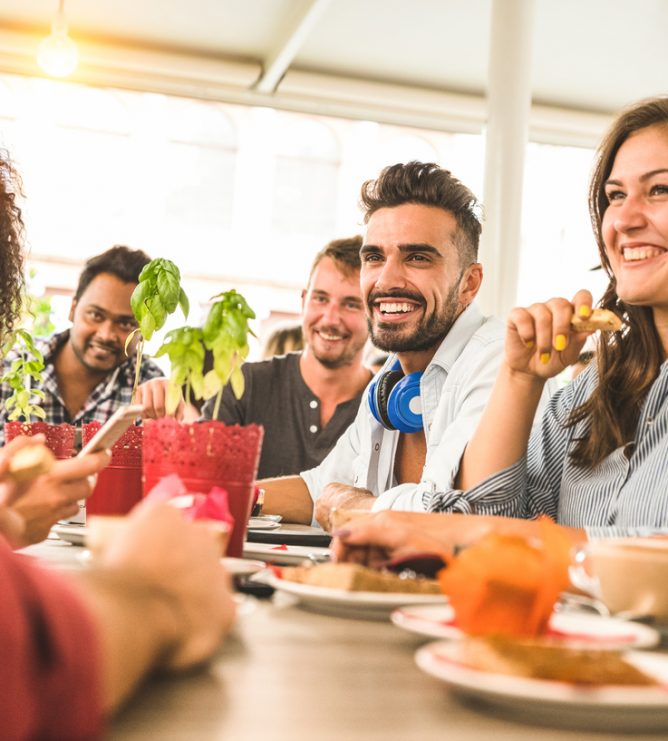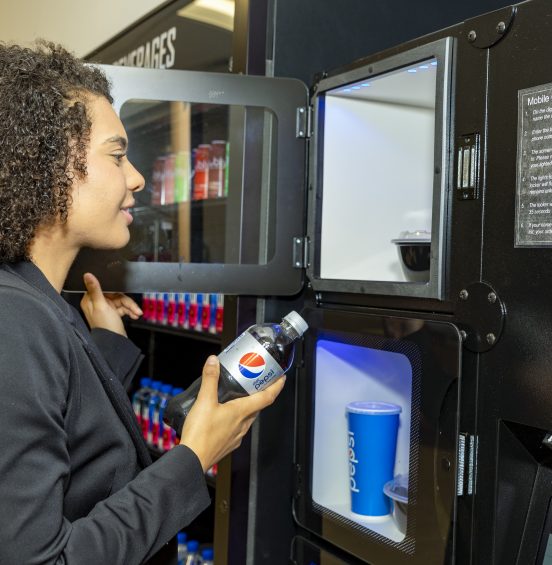 Flexibility Is Our Specialty
A Personalized Approach
As your business changes, we stay flexible and proactive, working with you to adapt to new challenges. We use data to measure and guide sound business decisions and come up with creative solutions to drive your business forward, while always placing guest experience first.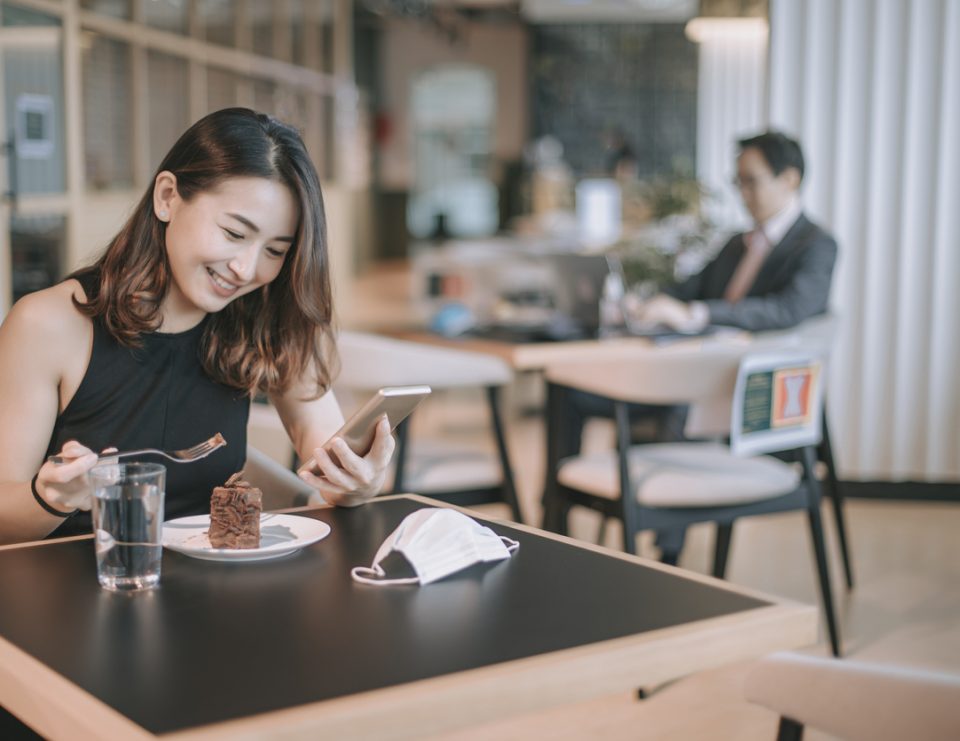 Providing Convenience Through Advanced Technology
Our technology solutions deliver the personalized experience your customers demand. As you move to re-open your dining and refreshment programs, offering flexibility will be key to making guests feel comfortable. Through our advanced technology, mobile ordering, touchless technologies, unmanned micro-markets and efficient delivery systems, guests will be able to choose how, when and where they get served.  
A Variety of Offerings
We leverage technology with digital menu boards, online ordering, mobile apps and nutritional analysis of menu items, ensuring each guest has timely information on their mobile devices. Below are some of the innovative technologies that we offer to help improve the guest experience.
Revolutionary FRESHrewards™ App
Our exclusive FRESHrewards™ app is the most innovative mobile payment and rewards app on the market. With FRESHrewards™, employees will be able to place mobile orders and set pick-up times, load funds and manage their accounts easily.
How it Works:
Mobile Order
Mobile ordering with complete order customization is available for all guests.
Set Pickup Time
Anyone can place an order from their work space and have it ready for pick-up when they are ready.
Mobile Payment
Not interested in mobile ordering? No problem. You can still use FRESHrewards™ for mobile payment in the café or REFRESHexpress.
Touchless Scan & Pay
Simply scan any barcode in the micro market or café and pay instantly. No kiosk, no register, NO TOUCH!
Promotions & Rewards
Earn valuable rewards and have access to promotions every day.
Online Dashboard
Want to manage an account online or place a mobile order from your desktop? Just access our easy-to-use companion website.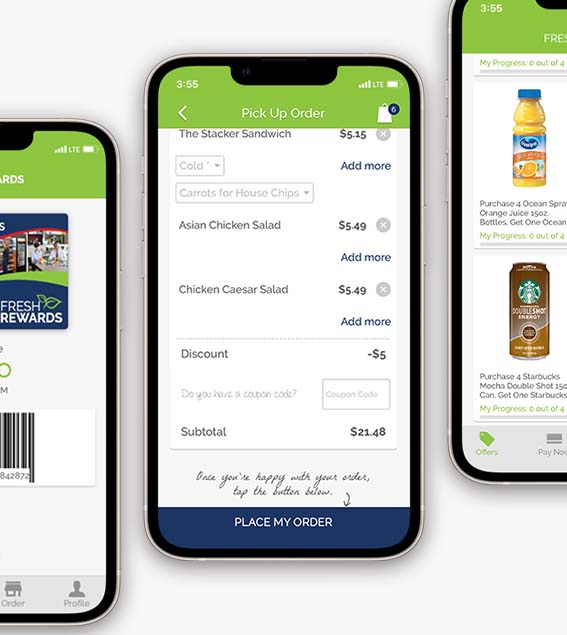 Advanced Remote Ordering Solutions
We offer customized kiosk solutions that include pre-pay order kiosks, post-pay scan and go kiosks, as well as online ordering and pay.
How it Works:
A Perfect Fit
Our automatic ordering and payment kiosks are the perfect option to enhance convenience, boost the speed of service, and expand ordering options in cafés, micro markets and coffee bars.
Flexibility – Pre & Post-Order
Our kiosks can be used in pre-order mode with full menu options and control or post-order as self-check-out kiosks.
Integration
Our FRESHrewards™ app and kitchen production system is fully integrated with our proprietary Quantum POS system.
Outstanding Payment Options
Cash
Credit | Debit
Apple Pay | Google Wallet | Samsung Pay
FRESHrewards™ payment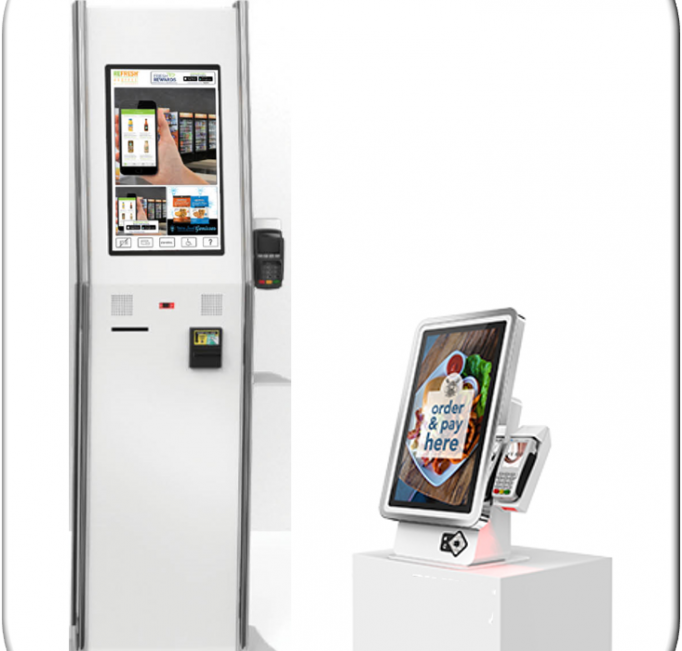 Amerifit App
Our one-of-a-kind Amerifit Fitness & Nutritional Tracker app allows users to scan any item in our café for full nutritional content, enter daily food choices and view daily menus. 
How it Works:
Scan & View
An easy-to-use scanner provides quick access to nutritional information via QR codes posted in the café.
Log
Instantly log and track daily food choices and activity.
Suggestions
List of healthy alternatives in our cafés and markets.
Inclusive
Access to nutritional information for everything in the café and more than 300,000 retail items.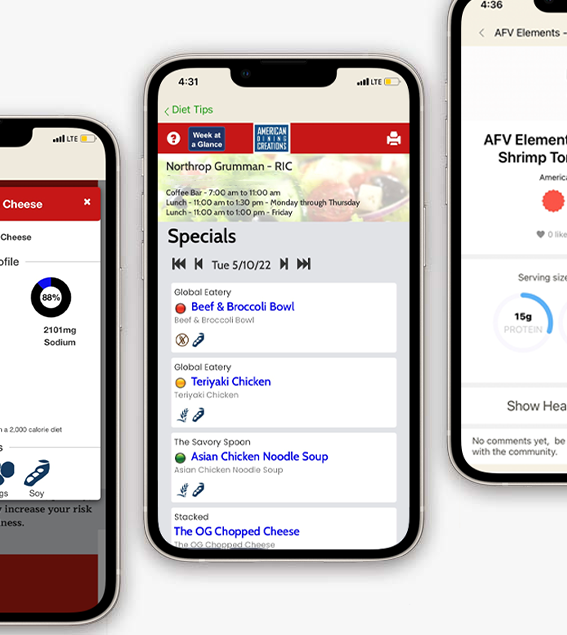 Amerifit Online Menu System
Associates will be able to quickly and easily access advanced copies of menus at each dining location from their smartphones or computers. Using the online menus and nutritional database, associates can easily access daily specials as well as get complete nutritional transparency, including calorie and food allergen information.
How it Works:
Calories & Food Allergens
Guests can quickly see calorie counts and icons for common food allergens on each daily menu item.
Complete Nutritional Transparency
Access to complete nutritional information, recipes and ingredient lists on every menu item.
Rate Me
Not only can guests see their menus, but they can also provide us with instant feedback from a computer or smartphone.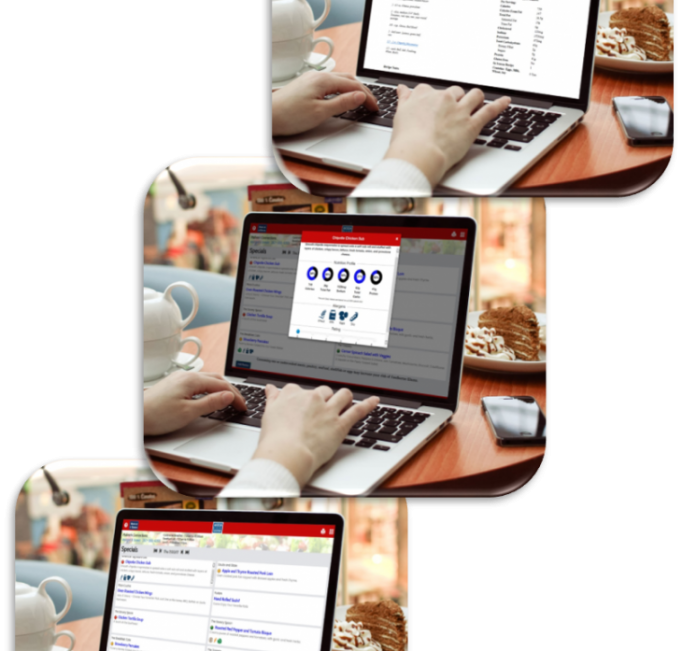 Our In-House Facility Design
At American Dining Creations, we pair our enthusiasm for food service design and project management with a wide range of in-house technical expertise and competencies. This approach transforms any breakroom or dining space into one that will engage and enhance the overall dining experience for all guests.
We have the expertise that can transform any space into a destination.
With a passion for great food and our operational expertise as the foundation, American Dining Creations brings a detailed eye and an innovative approach to design services by ensuring ease of use for the customers and staff. Whether you need to energize your breakroom with a REFRESH Express, self-service market, renovate your café, or add an engaging coffee bar solution, American Dining Creations can deliver no matter the size.
A great customer experience begins and ends with a great café design.
We focus on creating an efficient flow for the guest through all points of service so that they can quickly move through the café easily and have plenty of time to relax and recharge in a customer-friendly dining area. Our attention to detail will connect form, function, and durability. To create a space that invites guests to dine in, we will consider all the necessary variables such as location, equipment needs, menu design, budget, and vision.
We will custom tailor your breakroom, café, or coffee shop design to meet your specific business needs.
American Dining Creations will be there with you from the start, beginning with a two-way interview where we uncover your dream and ensure the planned design meets your needs. As a single source for our clients, we offer CADD design services, equipment specification and fulfillment, digital signage and smallware fulfillment. We can assist with coordinating all aspects of your project, including other vendors and contractors. This will reduce complexities and provide peace of mind.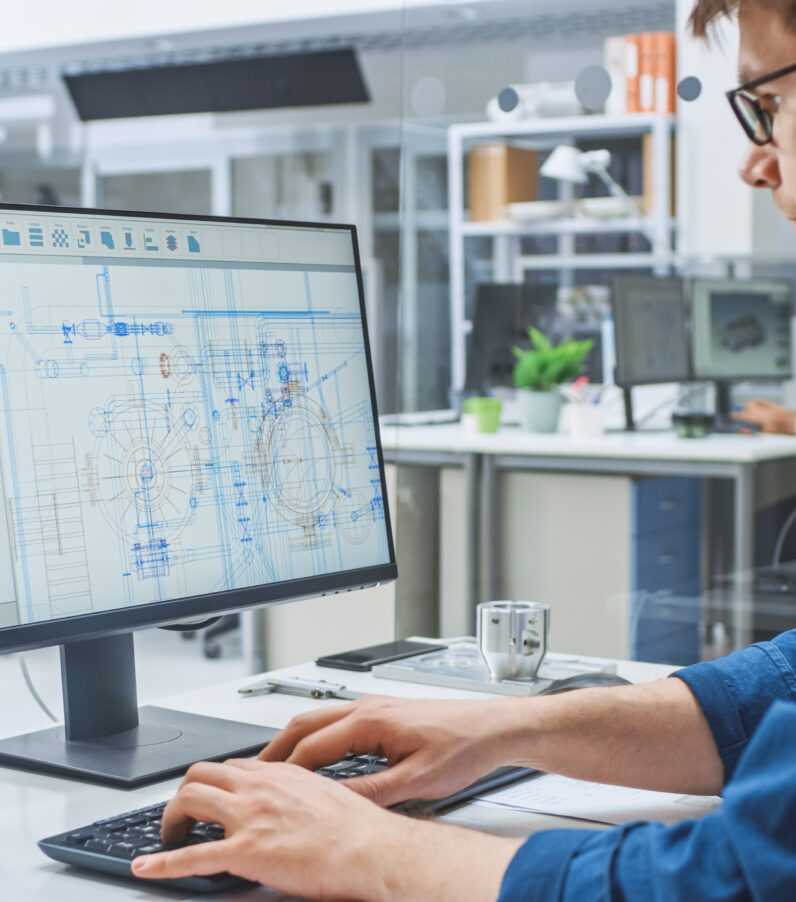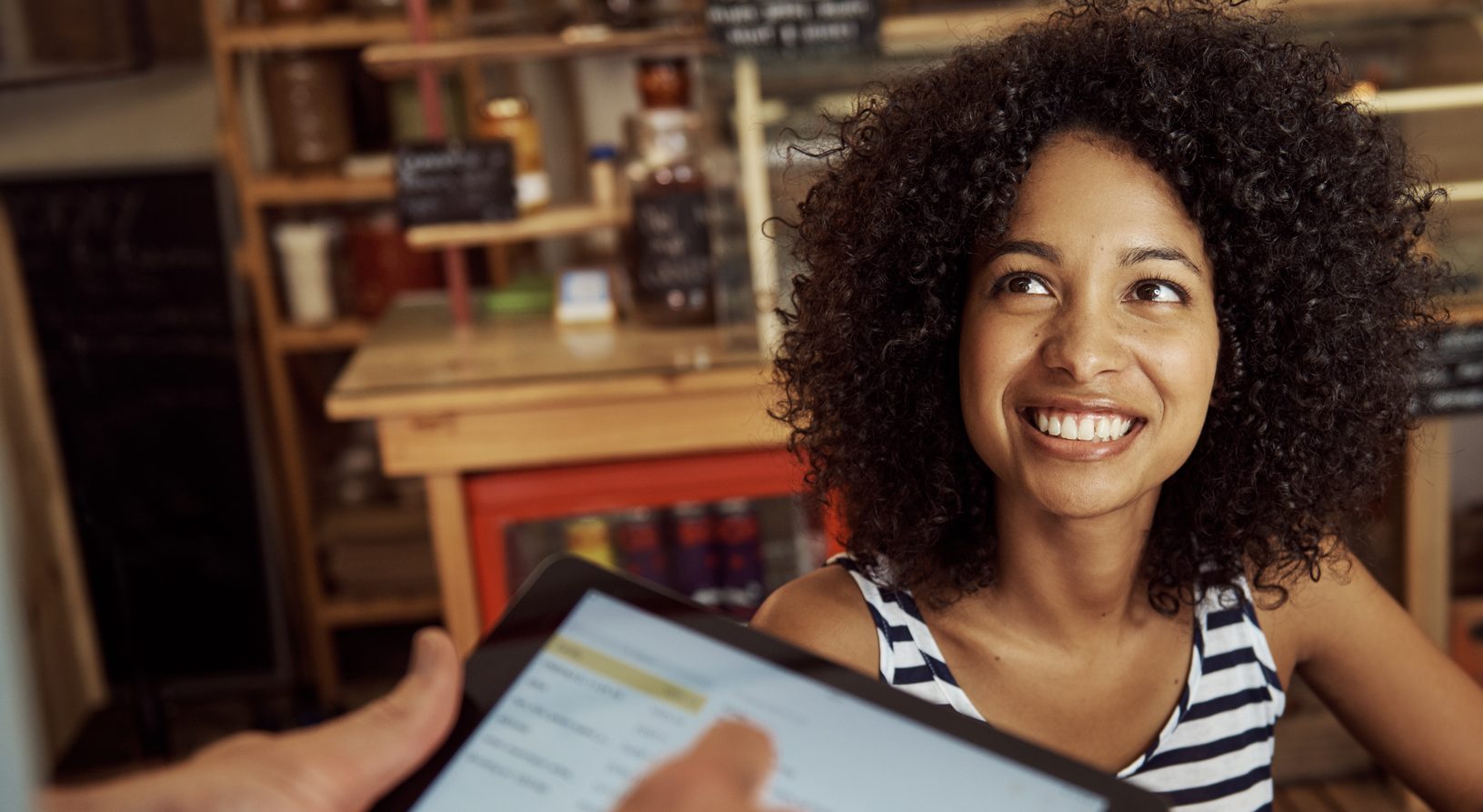 Contact Us
Partner with a company that continues to innovate, excite and engage and is a leader of the hospitality craft. Call us at 1-800-466-9261 or click below.
Contact Us